While many churches today expound on life by illustrating with Scripture, The Shepherd's Church expounds on Scripture and illustrates with life!  We are followers of Jesus Christ who believe in the power of God's Word to transform lives for His glory.
WORSHIP
Our corporate services on the Lord's Day reflect our commitment to Sola Scriptura—the Scriptures alone—as our guide for life. When we gather, we joyfully sing the Word, led by our choir and orchestra; we read the Word, preach the Word, and find our true joy and fellowship around the truth of God's Word.
CONNECT
Our desire is to help you connect to God and to one another.  You may have heard it said that "no man's an island," and that is why here at Shepherd's, we strive to provide a variety of ways to help you get connected into fellowship with one another.
GROW
Spiritual growth happens best in the context of small groups. "As iron sharpens iron, so one person sharpens another" (Proverbs 27:17). That's why we offer an abundance of groups, classes, seminars and more to help you go deeper into God's Word together.
SERVE
As Christians, each one of us has been gifted with special skills, talents and experiences to serve the body of Christ, which is His church. When the church functions collectively as God intended, we both edify one another, and also effectively reach others with the gospel.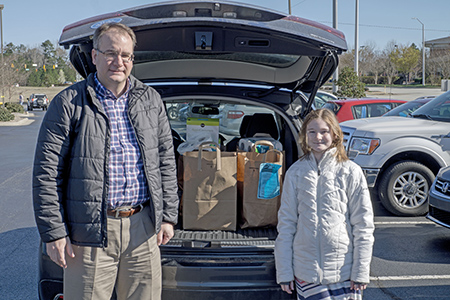 SHARE
Before Jesus ascended to heaven, He gave a command to His followers to "go therefore and make disciples of all nations (Matthew 28:19). We do that in a variety of ways, including sharing the love of Christ through community outreach as well as missional work around the globe.
The history of The Shepherd's Church is a testimony of the "great and awesome wonders" of God as He has knit individuals together to form a church body for His glory. Each person He has brought to our church has a unique role to serve and a story to share of God's grace. As we look back at all that God has done, we should be challenged to continue to trust Him as He holds our future.

Our church's story begins over thirty-five years ago. Newly graduated with a Masters of Sacred Theology from Dallas Theological Seminary, Stephen Davey arrived in the Triangle area to plant a church. Stephen and his wife, Marsha, trusted God as they took this step of faith and moved across country with their twin infant sons. God took care of the details – from guiding Stephen to the location, to providing money for the rent. An advertisement in The Cary News announced the new church, and Colonial Baptist Church began with Sunday services on September 7, 1986. Twenty-eight people were in attendance for the morning service in the band room at East Cary Middle School.
From the beginning, Stephen preached in an expository style, and as word spread of the church's solid scriptural foundation, the new fellowship began to grow. "God has given us a ministry that isn't built around one man or one program," Pastor Davey says. 

"Sola Scriptura, the Scriptures alone, remains the primary compass for everything we are doing, planning, teaching and pursuing."  It was on that solid foundation that Colonial chartered its first members in 1987. The 45 members-to-be participated in the prototype Greenhouse class – a Saturday morning session in a church family's basement. Also in 1987, Colonial began supporting its first missionary. By 2006, more than $5 million had been given to global missions. 

In 1989 plans for a church building began to intensify, and groundbreaking on a new building at 6750 Tryon Road occurred in 1991. By that time there were more than 450 regular attenders, and a second service was added at East Cary Middle School. Services were first held in Colonial's new home in 1992, but within months, the congregation voted unanimously to relocate as the building was quickly outgrown. In 1993, we installed temporary classroom trailers next to our building to accommodate the growing population of children. In 1995, we added a third worship service. By the time we left that property we had converted all of the offices into nurseries and moved the offices off-site. On Sunday morning, we were renting two public schools for children and student Sunday school, and adult Sunday school was meeting in an office complex. 
It took 9 years to find our current location – land that had been owned by one family since the 1850's – and the congregation raised nearly 2 million dollars and purchased this strategically located corner property in 1995.  The first phase included the Worship Center and the buildings now known as the Administration Center and the Family Center. Our first services at 6051 Tryon Road were held on Easter, 2001. In 2007, Student and Children's Centers were completed which added to the growing Campus a beautiful Chapel, Café, Library and new classrooms for elementary students along with classrooms capable of streaming Shepherds seminary courses around the world.

"Church growth was never our intention, and it still isn't!" Pastor Davey says. "We've simply responded to what God is doing." While God has provided richly for the needs of the church, our history as a church is so much more than numbers and buildings. It's a story about individuals serving, growing and learning together as part of a living body. As the church grew, new ministries developed to equip the body and reach out to the community.
"To this day, I am more excited about tomorrow than yesterday," Stephen says, "and I remain convinced that our greatest step of faith is the next one." The tomorrow that Stephen is excited about is a church that invests in other churches and multiplies believers. CLICK HERE to learn more about our strategy to multiply our ministry impact.
For Stephen and the entire Elder Team, this isn't just a vision for our church. It's a matter of "responding to the work that God ignites, establishes and advances."

In February 2020—before the COVID-19 pandemic hit—our elder team began discussing a name change for our church that would better communicate our identity in Christ, and our joy in following Him. They wanted a name that communicated our loyalty to biblical doctrine instead of a Baptist denomination; an identity unrelated to a period in American history or a style of architecture. They simply and prayerfully desired a church name that would focus attention on our joy in belonging to Jesus Christ, our Shepherd. They chose, "The Shepherd's Church, and in December 2020, our church voted to officially change the name.
August 1986
Stephen and Marsha Davey move to Cary, NC.
Sept. 7, 1986
Twenty-eight people respond to Cary News article and attend the first Sunday service in East Cary Middle School's Band room.
1987
Forty-five people become "Charter Members" and the church begins supporting its first global partner.
1989
The church moves into its first facilities on a 7-acre tract of land.
1995
After outgrowing the property, the assembly purchases the current site of 30 acres.
2001
The first worship services are held on the current property; Wisdom International launches through Trans World Radio from Bath, England.
2003
Shepherds Theological Seminary is incorporated and holds its first classes on campus. 
2006
Global missions giving surpasses $5 million. 
2011
The church's 25th Anniversary is celebrated. 
2014
Cumulative giving to global missions surpasses $11 million.
2017
Shepherds International, a sending agency for global workers in strategic parts of the world, is created as well as The Shepherds Network, our church planting initiative.
2018
With funds from Grace Promise, financial assistance is provided to plant five new churches – 4 in Africa and 1 in North Carolina.
2019
Livestreaming of sermons reaches 49 states and 32 countries.
2020
The three-year goal of planting/revitalizing 20 churches by end of 2020 is achieved; cumulative giving to global missions surpasses $14 million. The church officially changes its name to "The Shepherd's Church" to communicate our identity in Christ—the Chief Shepherd.
Stephen Davey, the son of missionary parents, was raised to love Christ and the gospel. In his last year of high school, Stephen committed his life to serve Christ vocationally wherever God chose to assign him in ministry. His first part-time opportunity was as a college student, serving one summer alongside his father, who had recently planted a church in Virginia Beach. As a part-time youth pastor, Stephen saw the Lord impact the lives of students with His timeless word.
Ministry Preparation and Marriage
When Stephen began his collegiate studies at Liberty University in 1976, he majored in Bible and minored in World History. He finished his studies at Tennessee Temple where he met his future wife, Marsha (Gladney). They married soon after graduating from college together in 1981. God has since blessed them with four children (twin boys and 2 girls) who've given them six perfect grandchildren!  
Stephen's love for history, combined with a desire to teach the scriptures verse by verse, led him to enroll in seminary for further training. Stephen earned his first master's degree (MDiv) at Detroit Seminary and then his second master's in theology (STM) from Dallas Seminary. 
Church Planting and Pastoring​
Following graduation from Dallas in 1986, Stephen and Marsha moved with their infant twin sons to Cary, North Carolina, to plant Colonial Baptist Church (renamed to "The Shepherd's Church" in December 2020). From the very beginning, Stephen preached expository sermons, while Marsha created the nursery and children's programs. In those early days, word of the new church's commitment to Bible exposition and the doctrines of grace spread rapidly, and the fellowship was soon overflowing with attendees. Today the church sits on 30 acres, engaging in more than 100 ministries carried out by several thousand volunteers. 
Shepherds Theological Seminary Leadership​
Throughout his pastorate, Stephen longed to plant churches and train men and women for ministry roles in the church. That vision became a reality in 2003 with the inauguration of Shepherds Theological Seminary​ (STS) where Stephen serves as president.​
With an outstanding faculty and growing student body, STS currently meets on the campus of our church which also allows Stephen to interact with the students as well as teach Pastoral Theology and Creative Bible Teaching.  ​
STS is one of Shepherd's most strategic church-planting initiatives, and it is a rare privilege for our church to be able to support and participate in training our students for pastoring, counseling, teaching, military chaplaincy and a host of additional roles in ministry.  As a result of our partnership with STS, Shepherd's continues to play a vital role in launching church plants, filling numerous pastoral and ministry roles and serving the body of Christ at large.  STS now has more than 240 graduates, serving in 28 states and in 13 different countries around the world. 
Wisdom for the Heart Begins​
For several years, two faithful volunteers from Shepherd's had been recording and reproducing sermon cassettes as well as typing out sermon transcripts.

When Trans World Radio's president approached Stephen about producing a radio broadcast, he agreed. After adding a program producer and taking a big step of faith, Wisdom was ready for production. In 2001, Wisdom for the Heart went on the air via TWR's transmitter in Bath, England.​
Several years later, the Bible Broadcasting Network began airing Wisdom throughout their North American network. Additionally, they began translating Stephen's sermons into Spanish and airing the program on their South American network, reaching a vast audience. ​
Today, by God's grace, Stephen's verse-by-verse teaching is heard around the world in English, Spanish, Portuguese, Swahili, Mandarin and Arabic.  Wisdom's website offers Stephen's archives of sermon transcripts and audio teaching, free of charge.
Writing Ministry​
Stephen has authored more than 40 books, study guides, commentaries, and booklets, published by Ambassador/Emerald House, Kress, Charity House, and LOGOS. Stephen is scheduled soon to release a commentary on James in the New Testament Exposition Commentary series, published by Regular Baptist Press.